5 Pieces of Gear for Fall Bike Rides
Published on 10/23/2013
Spend one hour in the saddle using the wrong gear, and you may never climb on your mountain bike again. A few essentials—gloves, a helmet, clothes that can get dirty, and a good dose of courage and stamina—can make all the difference. The below five fat-tire friendly products rise to the fore as some of the most essential gear for all manner of mountain biking, from downhill plummets to free-ride acrobatics to quad-punishing cross-country rides.
5.10 Maltese Falcon Shoe
When a seasoned mountain bike guide told an Active Junkie testers that the Maltese Falcon was the only shoe he'd wear in Moab, we knew that 5.10 was onto something. Without a doubt, the Falcon's Spiderman-sticky S1 Stealth rubber sole will provide firm purchase throughout that slickrock metropolis, but these SPD-compatible kicks perform in almost any fat-tire climate—the rubber gets stickier when it gets wet. A stiff-but-responsive central shank gives you even control, whether pedaling over singletrack or hiking around the over-the-handlebars technical terrain. The high-rise sole, burly toe cage, and an external heel strip gives the shoe a rugged, SUV-like feel that inspires confidence, while the wide Vecro straps keep the laces from getting shredded. At 16 ounces, they're not the lightest mountain bike shoes on the market, but because they're from 5.10—a company who got its start making climbing shoes—you'll never have to worry about losing your traction (unless you brave the afore-mentioned endo-inducing obstacles).
For extreme downhill, 5.10 also makes several non SPD-compatible sneakers like the Impact Low ($120) with more aggressively sticky rubber to keep grip on pegged pedals.
Earn Cash Back on the 5.10 Maltese Falcon Shoe
Osprey Escapist 20 Pack
The perfect mountain biking pack almost defies description: you want something that's svelte and low-profile so you don't feel off-balance while swinging through singletrack. But you need something that can carry your tools, food, layers, and oddball sundries. No pack has achieved that Platonic ideal quite yet, but Osprey's Escapist 20 comes damn close. The panel-loading backpack boasts a breathable ventilated harness, with a mesh hip belt, a hydration sleeve, twin water bottle mesh pockets, and a discrete, stowable rain cover. Inside the front panel, you find a cache of storage options that cater to bike tools, while the main compartment offers cavernous storage for the bigger items like a jacket or vest. As with most cycle-specific Osprey packs, the Escapist has also been outfitted with a LiftLock helmet attachment (which slips through the helmet's vents to be easily carried) and a strap for clipping on a flashing light—features that make this pack ideal for commuting as well as mountain biking. A zipped top pouch keeps must-haves like your phone or sunglasses within easy reach, and the variety of compressible straps lets you synch things down to dial in a light, nimble feel while in the saddle. And—of course—the bag works well while enjoying outdoor activities other than mountain biking…
Earn Cash Back on the Osprey Escapist 20 pack
Giro Pneumo Helmet
Doing exclusive downhill riding? Go for a full-face helmet—your face with thank you. For the rest of the cycling set, the Pheumo helmet does double-duty on both the dirt track and the pavement. Copious venting—19 "wind tunnel" vents, along with internal channeling—can make even the muggiest days of August into a comfortable outing, while Giro's well-known dial-set Roc Loc 5 fit system makes it easy to adjust the helmet when conditions demand a warmer layer underneath all that high-safety-rated protection. The P.O.V. visor provides 15 degrees of on-the-fly vertical pivot without any rattle or shake, making the Pneumo as versatile as your cycling ambitions.
Earn Cash Back on the Giro Pneumo Helmet
Chrome Telegraph Knickers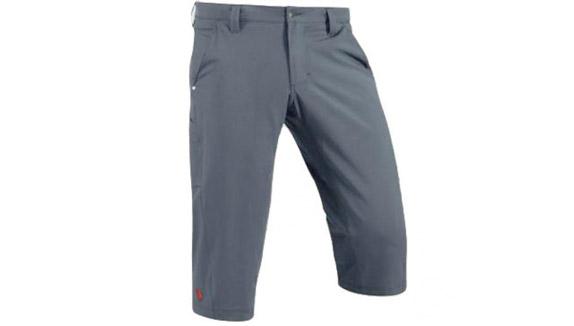 Call 'em man-pris if you like, but when you're cycling through the Scottish highlands, no one cares what you look like. And even if the fashion police showed up on that distant moor, you probably still won't care. These four-way stretch soft shell knickers are a cool-weather mountain bike Godsend. The extra fabric that covers your knee provides a surprising level of warmth and a few more inches of protection against the abrasions, and the shin-high hem keeps the cuffs from getting caught in the chain (and also lets you show off your favorite cycling socks). The Telegraphs have the standard four-pocket pant configuration, along with a Velcro-close side pocket for your cell (whether or not you'll want to put your smart phone in that pocket is up to you—we say no). The durable fabric shrugged off a steady Scottish drizzle for about two hours before soaking through in a few places, but the fabric never felt too heavy during day-long boggy slogs.
Earn cash back on the Chrome Telegraph Knickers
Crank Brothers 50/50 2// Pedal
Clipless pedals have become an expected convention in most cycling pursuits—except when it comes to vertiginous downhill rides, where a sudden eject (or a subtle toe-drag) can't be hampered by trying to click out of your pedals. The two-piece aluminum 50/50 2// flat pedal weighs in at a relatively feathery 211 grams each, but provides a sturdy platform on which to pedal. The 10-mm traction pins are adjustable, so you can customize how well your shoes stay on to the pedal, while Crank Brothers' five-year warranty means that these pedals may out-last your bike.